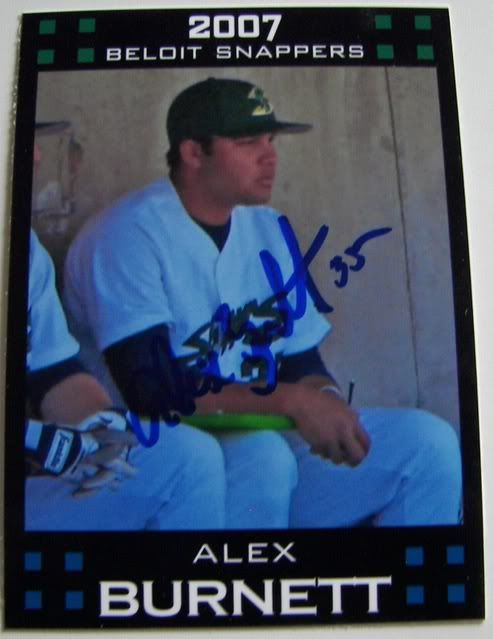 This is the first Question and Answer I've done in a long time, so I hope everyone enjoys it.
Alex Burnett
has been a great presence throughout the Twins system since they drafted him in the 12th round of the 2005 draft. In Rookie Ball, Burnett looked to be an average pitcher with a combined 8-5 record and 4.06 ERA between the Gulf Coast League and Appalachian League. But since 2007, he has been anything but average as he holds a is 20-17 record with a 3.18 ERA between the Midwest League, Florida State League and Eastern League.
While racking up nearly 300 innings over the course of the 2007 and 2008 season, the Twins made the decision to move Burnett into the bullpen. While some may have questioned the move, Burnett has made the Twins' decision look genius. This season, Burnett is 3-3 with a 2.08 ERA in 38 relief appearances. He also made the jump from Advanced-A Ft. Myers to Double-A New Britain despite being only 21-years-old but hasn't lost any of his edge.
Burnett's future - whether it be in the bullpen or in the rotation - may not be decided yet, but he'll likely handle both well while he gives the Twins a very talented arm.
So without further adieu, lets get to the questions and (more importantly) the answers.
***

Josh's Thoughts:
Growing up near Los Angeles, I have to ask, Angels or Dodgers?
Alex:
I was for sure an Angels fan. For one, I live closer to Angel stadium and that's where my family took me to watch baseball games and because I always thought they were a better team.
Josh's Thoughts:
Did you play any other sports in high school?
Alex:
I played soccer my freshman and junior year and I stopped playing once I realized I had the talent to possibly go pro, so I stopped playing soccer and focused on baseball.
Josh's Thoughts:
Before you were drafted, how much contact did you have with the Twins?
Alex:
I had a little bit of contact Twins scout John Leavitt. He would be at my games and he always had good things to say about me.
Josh's Thoughts
: You have had great success as both a starter and as a reliever. First, was there a reason for the switch? Secondly, which do you see yourself as long term? And finally, do you have a preference between the two?
Alex:
I think the reason that the Twins switched me was because they see me as a reliever in the future for them and they think I'll move up faster as a reliever. Long term, I can see myself as a reliever. I have really enjoyed it thus far and I hope I just keep doing what I've been doing. It's kind of hard to say I prefer one or the other because they are two different animals. In the bullpen you have to be ready at all times because you never know when you're going to pitch and once you're called upon to get hot, its really intense for me and I like coming in with runners on base and the adrenaline that comes with that. And as a starter you know what day you're gonna pitch so you have a few days to get mentally prepared. So I enjoy both, but I like what I'm doing now.
Josh's Thoughts:
What has been the biggest difference between coming in as a reliever and preparing for a start?
Alex:
Like I said, you know when you're day to pitch is as starter so you have the opportunity to prepare yourself to pitch, rather then when you're in the bullpen you can get called on at any point in the game.
Josh's Thoughts:
What does your repertoire consist of?
Alex:
I through a 4-Seam and 2-Seam fastball from 89-94, Slider/Cutter 83-86, Curveball 76-78, Change-Up 81-83,
Josh's Thoughts:
What would you say is your 'out pitch?'
Alex:
Well lately it has been my Cutter, but the majority of the time it's either my fastball or curve, I guess they're all my out pitches.
Josh's Thoughts:
Who has had the biggest influence on your career?
Alex:
My whole family they have supported me since day one and when I go out on the field I do it for myself and for my family.
Josh's Thoughts:
Who were your favorite players growing up? Do you have a favorite player now?
Alex:
My favorite players growing up were Ken Griffey Jr. and Roger Clemens. I don't really have a favorite player anymore, I just like watching good baseball.
Josh's Thoughts:
What is your goal for the remaining of the season?
Alex:
To keep pitching well and possibly get a chance to pitch in Triple-A and to help what ever team I end up on win a championship.
Josh's Thoughts:
What do you like to do in your free time?
Alex:
Hang with the guys and play video games and sleep and eat. Haha
Josh's Thoughts:
What are your interests besides baseball? Favorite music, movies, other hobbies etc.
Alex:
Well, I don't think a day goes by where there isn't some sort of music playing in our house and I like all types of music. I watch any movie that sounds good and that people say 'you have to see this movie.' We like to golf when we get a chance, haven't really had time to since being in Connecticut.
Joshs' Thoughts:
If you weren't playing baseball, what other profession would you want to be?
Alex:
I wanted to be a fire man for the longest time in high school, but I think I would become a teacher and coach baseball or any profession that keeps me around the game.
Josh's Thoughts:
Do you have a nickname?
Alex:
Yeah, everyone calls me 'Ali' because everybody thinks I look like Muhammed Ali. And its not only my teammates that say that, I have had random people come up to me and say that I look like him, its pretty funny.
Josh's Thoughts:
What is something people might be shocked to know about you?
Alex:
Having a 3-year-old sister I guess would be shocking because of the huge gap in age, but other than that, nothing really shocking.
Josh's Thoughts:
Is there a player in baseball that you'd compare yourself to?
Alex:
Well, I was told I pitched like Juan Rincon a little bit, so I guess him.
Josh's Thoughts:
What has been the most difficult part of pro baseball? Best part?
Alex:
The most difficult part about pro baseball is not being able to be with your family. The best part is everything. I love everything about the game, traveling, being part of a team, meeting new people and the fans.
Josh's Thoughts:
What is your greatest baseball moment?
Alex:
Getting drafted and winning CIF (California Interscholastic Federation) my senior year.
Josh's Thoughts:
What do you think you will need to work on most between now and before you arrive in Minnesota?
Alex:
I could use a little more work on controlling the bottom of the zone and just keep trying to perfect my pitches.
Josh's Thoughts:
Although you're dominating the Eastern League from the bullpen, what has been the biggest adjustment between High-A and Double-A? Which jump has been the hardest (rookie to low-a, low-a to high-a, etc.)? Any particular reason why it was harder?
Alex:
The hitters here in Double-A are a lot more disciplined and instead of having like 4-6 good hitters on a team in High A, in Double-A 1-9 can hurt you at anytime if you make a mistake with any of your pitches. The hardest jump I think was from Low-A to High-A just because the hitting is a lot better from Low-A to High-A.
Josh's Thoughts:
What advice would you give a young baseball player that hopes to make it into pro baseball someday?
Alex:
Just to focus on what he wants to accomplish and go for it because anything is possible and always work hard and listen to your coaches because they are the ones that are gonna get you where you need to be in order to play ball at a high level.
Josh's Thoughts:
What has been your favorite minor league stadium to play at?
Alex:
So far its a toss up between the Daytona Dragons stadium or Altoona Curves stadium with the roller coaster behind the right field fence.
And a special thanks to Alex for taking the time to answer a few questions. The Twins are lucky to have a pitcher like Alex who excels both on and off the field. He's a very cordial person and Twins fans will have a lot to like about him when he finally reaches Minnesota.