Some of you may have noticed that I've added two "Books to buy" to the right side of the page. The two items I'm talking about are the
Maple Street Press Twins Annual 2010
and the
Minnesota Twins 2010 Prospect Handbook
. So instead of just telling you to buy these, I'm going to give you a little more information on them.
Since last summer, the
Twins Centric
group of
John Bonnes
,
Seth Stohs
,
Nick Nelson
and
Parker Hageman
have been busy working on several publications. With both the
Trade Deadline Primer 2009
and
Offseason GM Handbook 2009
available to purchase, the Twins Centric group helps lead a plethora of Twins bloggers in their latest venture the
Maple Street Press Twins Annual 2010
.
In all, 17 different writers were given the opportunity to have an article of theirs published in the magazine. My article was on the Twins focusing more on signing international prospects. But if you're scared by me being in it, you can rest assured that there are 128 pages of great content from much better writers.
I received a copy of the magazine on Wednesday and I have to say that the amount of content is overwhelming and it will make a great gift for any Twins fan. If you'd like to learn more about the
MSP Twins Annual 2010
, including who else is in it,
click here
.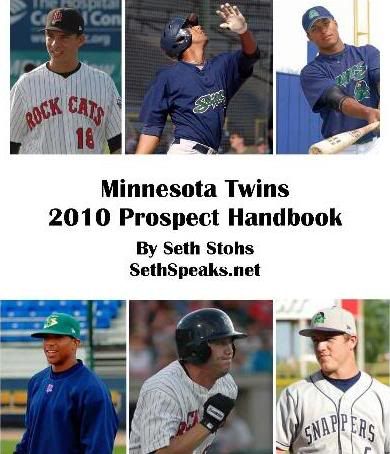 And if you're interested in learning more about Twins prospects, I cannot recommend this next item enough. Seth Stohs wrote his first
Minnesota Twins Prospect Handbook
last year and it was a great first project. But much like the Twins Centric group, he continues to out-due himself from his last project and his
Minnesota Twins 2010 Prospect Handbook
is a must buy for anyone that has any interest in what is going on in the Twins farm system.
Whether you're a Minor League expert or don't know a single player, this handbook caters to everyone's knowledge. With over 123 pages of coverage and 150 prospect profiles, this handbook is chalked-full of premium Twins prospect coverage. Here's what you can expect from the handbook:
The Minnesota Twins 2010 Prospect Handbook is at the publisher. Now, it will still be two or three weeks before it will be available, but starting today, you can pre-order your copy(ies) of the book. The first 75 books pre-ordered will be signed by yours truly. You can see the book's cover below. If you click on it (or Click here), you will be taken to a PayPal page where you can pre-order copies. The book will sell for $13.95, but if you pre-order in January (through Sunday), you can get your copy for the same price as last year's book, $12.95.

Last year's book had 81 pages. The 2010 Minnesota Twins Prospect Handbook has 123 pages. And this year… We've got some pictures! There are stories on:

· Foreword by Kelly Thesier

· Just over 150 Twins minor league profiles

o With more in-depth statistics and splits

o Scouting reports from several people in, around and outside the Twins organization

· Top 5 Prospects from the Twins DSL Team

· Twins as Players in the International Markets

· Twins in the AFL

· Interview with Jeff Manship: Big Leaguer

· Danny Valencia: On the Cusp

· 2009 Draft and Derek McCallum Q&A

· SethSpeaks Top 30 Twins Prospect lists, 2006-2010

· Top 10 Twins prospect lists from several minor league experts and some of your favorite Twins bloggers.

Of course, if you have any questions, I welcome them. Please e-mail me.
I recently asked Seth a few questions on the handbook, and here's what he said:
Josh's Thoughts:
Tell us a little about the handbook.
Seth Stohs:

I could write/talk about the Handbook for an hour. I am really excited about what it is going to be. I was proud of last year's book, and for a first book, I thought it was solid, but this year is so much more. Last year's was 81 pages. This year is about 123. There are over 150 player profiles that are much better than last year's. much more in terms of scouting reports and in terms of more in-depth statistics and splits. Also, this year, I've got articles about the Twins in the international markets, the

Arizona Fall league

, the 2009 draft with lots of quotes from draftees and a small Q&A with Derek McCallum, a Q&A with Jeff Manship, and a quote-filled article called On the

Cusp

: Danny Valencia, and more. And this year, I have my updated Top 30 Twins prospects, but also look back at my past five Top 30 lists which is always fun to see where I was right and where I was wrong. There are also Top 10 lists from some of the prospect experts like

John Sickels

,

John Manuel

and Kevin Goldstein, but also from several of your favorite Twins blogs. There is a very nice foreword by Kelly Thesier. And, I'm sure I"m leaving several things out.
Josh's Thoughts:
How did you get the idea of writing the (original) handbook and what were some obstacles that you faced when writing it? Did you face any obstacles with the 2010 handbook?
Seth Stohs:

One of the readers of my blog e-mailed me one day after the 2008 season and said that there has to be ways to make money as a blogger. He presented a few ideas, one of which was a prospect handbook, since I already had profiles for my Top 50. The obstacles can be things like following the transactions throughout the offseason. Finding time to write when you have a regular 8-5 job, a 3 year old, a blog, writing a TwinsCentric publication, is not easy and there were a lot of nights falling asleep at the computer at 2:00 a.m. and getting up to start over. Finding sources for information that you can get good information from and trust can be tough too, but I'm happy with what I got. having Jonathan Mayo helping with some of the editing was a huge help too.
Josh's Thoughts:
How long did it take to write?
Seth Stohs:

The first book, I wrote the first draft in 2-3 weeks. This year's book took a lot longer, just because there was so much more information. Also, I intentionally wanted to make it available in late January or early February to make sure I could cover the Arizona Fall League, the 40 man roster changes, spring training invites and any other transactions that occur in a typical offseason. So this year, it took from October until a week ago.
Josh's Thoughts:
Will the book be available in any other formats (e-book, etc.)? And how do you feel seeing your name printed on something?
(...I know a little off, but I always think it's pretty surreal to see something that you did printed and want to know if I'm just crazy or if everyone has that feeling. Ha!)
Seth Stohs:

This book really is best in print version. Something that will be different this year is that it will be available at many bookstores around the Twin Cities and other places in the upper midwest. It will be available online. I'll be honest, to see my name on the cover of a book was pretty cool last year. The cover was simple, but still kind of cool. This year, the cover actually has six prospects on it, and my name. It looks more professional, and it's even more exciting.
Josh's Thoughts:
Finally, what got you interested in following
Minor League Baseball
in the first place?
Seth Stohs:

Well, going back to when I was eight years old and

collecting baseball cards

, I always gravitated to the prospect cards, the Rated Rookies, the Future Stars, the draft pick cards. I collected Beckett Focus on the Future Stars while it existed. Once I started blogging in 2003, I wanted a blog that I would enjoy. Once I realized how much minor league information was online, I founda niche. The Twins have always built from within and always were calling up players. The core of the current team came up through the system. I guess I just enjoy following the path from the draft or signing to the

big leagues

because there is no 'normal' path to the big leagues. It has been very interesting to see the increased readership and e-mail and comments on my site over the years relative to the minor leagues.
Everyone knows that Seth writes at his blog
Seth Speaks
on an everyday basis and strongly emphasizes the Minor Leagues. When I originally wanted to get into writing, I started reading both Seth Stohs and Jonathan Mayo (among several others) on a regular basis. Since I've been a baseball fan, I've always been very interested in the Minor Leagues and both of these guys covered them to a great extent. I can honestly say that without Seth's guidance, I probably wouldn't be writing
Josh's Thoughts
. And if I were, it'd be much, much worse (scary, I know).